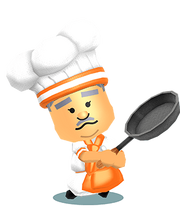 "Cooks up cures and stirs up trouble in equal parts with a trusty frying pan."
-Job Description
Chef Description
The Chef is a Job in Miitopia that focuses on healing and single-target damage.
Their Weapon of choice is the Frying Pan.
Their Clothing is called Uniforms.
With high attack and defense, the Chef is able to heal his/her allies while also dishing out some damage.
The Chef's default attack is single-target only.
Stats
Lv. 1
Lv. 50
Lv. 50, best equipment,

& max food buffs

HP
9
232
331
MP
7
125
224
Attack
8
94
408
Magic
3
84
181
Defense
5
83
432
Speed
5
54
153
Skills
Skill
Learned
MP Cost
Description
Extra Notes
Home Cooking
Lv. 2
3
"Restore a friend's HP with some freshly made cooking."
A single-target heal for 20 HP.
Flambé
Lv. 4
4
"Smack one enemy senseless with a red-hot frying pan."
A physical single-target attack that deals better damage than the user's default attack.

Can be assisted by Pincer.

Banana Fritter
Lv. 6
--
"Improves the flavor and effect of an HP Banana when eaten. (auto)"
When an ally uses an HP Banana, this doubles its effect. It also increases friendship between the Chef and the ally.
Spicy Dish
Lv. 8
3
"Feed spicy food to a friend, making them breathe fire on the enemy."
Ally breathes fire onto an enemy, dealing heavy damage, and may get upset with the user.
Feast
Lv. 12
18
"Restore the party's HP with plenty of food. Takes time to prepare."
A party heal; similar to the Cautious personality's Warm-Up quirk, takes effect last, after everything else has used its turn. Unlike the Chef's other heals, the amount varies; may be affected by the Magic stat.
Pro Cooking
Lv. 15
12
"Restore a lot of HP to a friend with a specially made meal."
An improved single-target heal that heals for 80 HP.
Spicy Dinner
Lv. 20
10
"Feed spicy food to the whole party, engulfing all enemies in a flame."
May make team-mates upset with the user. Contrary to the in-game description, each ally only breathes flame on one enemy; thus, only up to 4 enemies can be attacked with this skill. If there are less than 4 party members, even fewer enemies will be hit. A stronger version of Spicy Dish.
Maestro Cooking
Lv. 25
20
"Greatly restore friend's HP using only the finest of ingredients."
Greatly improved single-target heal. Heals for 150 HP.
Monster Dinner
Lv. 30
25
"Make a meal out of an enemy... literally! Doesn't always work."
When it actually hits, you are guaranteed the grub dropped by the monster after the fight (it will also show which grub you got from it during the battle).

Does not work on bosses or monsters that don't drop food.
Trivia
This class and the Tank are the only jobs that have skills that may cause teammates to be upset with the user (resentment).
Chefs, Cats, Tanks, Thieves, Pop Stars, Flowers and Vampires are the only classes that have unique walking animations in exploration.
The Chef's Flambé skill is treated like a regular attack, hence why the Pincer assist can work on it and why it is the only non-one hit KO skill that can miss in certain conditions ("crying" status, Mole enemies' dodge skill).
Gallery
Skills