The
Yeti
(Japanese:
イエティ
Yeti
) is a boss that is be fought in the
Powdered Peaks
alongside a
Cleric
during their quest.
Appearance
It's an ape-like creature covered in white fur with a blue face, hands and feet. It also appears to be wearing a blue bikini bottom. It has a Mii's eyes where its normal eyes would be.
Quest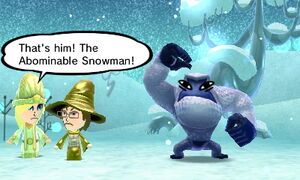 A Cleric needs someone to defeat an abominable snowman terrorizing Powdered Peaks, specifically Ghontu Waste.
Near the base of Tschilly Peak, while the party tries to pronounce "abominable", the monster will appear and reveal itself to be actually called a Yeti.
After its defeat, the Cleric will then reward the party with three servings of Golem Steak ★★.
Actions
| Action name | Description |
| --- | --- |
| Attack | Punches a Mii for high damage. |
| Charged Punch | A heavy punch to a single Mii after charging, dealing more damage. |
| Freeze Punch | Spins and hits the party with its fist. This can freeze Miis. |
| One More Time! (auto) | Uses two actions per turn. |
Enemy statistics
Yeti

| Image | HP | Attack | Defense | Magic | Speed | Locations Encountered |
| --- | --- | --- | --- | --- | --- | --- |
| | 1400 | 85 | 35 | 30 | 28 | Ghontu Waste |
Gallery
Trivia
If the player returns to the level where the Yeti was fought and defeated, they will battle two Pengys and a Snowman, however, the Yeti's boss theme still plays for unknown reasons. This is likely a bug.
The player, when encountering the Yeti, with fumble over how to pronounce it, eventually giving up. (Abdominable? Amominable?)
It shares the same internal name as the Troll. Both belong to the "Yeti" family instead of the "Gorilla" family that is shared by the Generals, even though both share the same grub drop.
See also